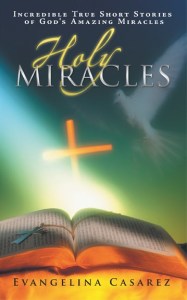 This is a small book, but it's filled with true short-stories of amazing, jaw-dropping miracles that happened to me prior to blog. I hope you get the chance to read the book.  Don't miss out.  Truly a-m-a-z-i-n-g!
Get your copy at your local bookstore or online at:  Amazon
These are the stories you will find in the book.  Unbelievable!
Mother Mary by My Bed
Hand from Heaven Held My Car Back
The Dark Cloud
My Elevator to Heaven
The Christmas Gift
Jesus Christ Blessed My Little Girl
Angel at the Pharmacy
The Angel Baby Sitters
Out of Body Experience
Angel with a Sense of Humor
Jesus Christ Walking on the Dry Grass
Angel rescued me from the fall
Archangel Michael's Blue Light
An Orb came in through the Window
Saved from a Car Crash
Message of 911
2004 Christmas Eve Snow
The Musical Orb
You Still Live On
Gnome through my Window
Jesus Walking Down from Heaven on a Dirt Road
The Cup of Coffee
The Little Nail at Church
The Gift of Myrrh and Frankincense
 The Six Cents