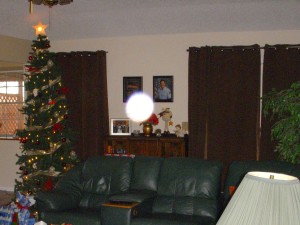 It was early afternoon on Friday, December 21 of 2012, and my sister and I are doing some last minute Christmas shopping.  As we shopped at our last stop for the day, she mentioned she had one last gift to get and was done with shopping.  I told her I was done with mine, but as I said that, I realized I wasn't done, because this year I had wanted to get a gift for Jesus Christ.
I wondered what would be the perfect gift for the son of God.  Then I remembered the Christmas song where the Three Wise Men offered him myrrh and frankincense.
So I purchased the myrrh and frankincense and my Christmas shopping was done.  I arrived home around 3:00 in the afternoon and instead of wrapping the myrrh and frankincense, I decided to put it in a small crystal bowl and placed it on the shelf by the Christmas tree.
I did a few things around the house and then I decided to take a few photographs of the tree with all of the wrapped gifts.  As I looked through the photographs, one photograph stood out.  I stood there for a moment in disbelief and shocked at what I saw.  I could not believe my eyes!  There was a large, white beautiful orb by the little crystal bowl of myrrh and frankincense.  I knew instantly it was Jesus Christ.  I took more photographs, but nothing else came out.
Then on Christmas Day around 2:45 in the afternoon I began cleaning up and gathering all the torn wrapping papers and boxes left on the living room floor.  I carried a bag full of trash and headed out to the recycling bin.  I walk my way to the garage, take four steps to the outside door and dump the bag of trash in the bin.
I make my way back into the garage and stopped to close and lock the door behind me.  As I take my first step after locking the door, I heard a static sound.  I stop and turn my head to find where the static noise is coming from and realize that it's coming from the radio.  The portable radio turned on by its self!  Then I heard the lyrics, "Merry Christmas, Merry Christmas", and the radio turned off instantly.  It was the Merry Christmas-Canon song with lyrics.  I stood there in awe, wondering if Jesus Christ was standing right there next to me at that moment.  My jaw dropped.  Wow!
After a few moments of euphoria, I excitedly open the kitchen door and yelled out to my husband, "Eddie, the radio turned on by its self!"  He said, "Well disconnect it.  One of the buttons is a little loose.  It's never turned on before though."
I had walked by that radio so many times before.  It's been there for years and not once has it turned on.  But on that Christmas Day, it turned on as I walked in front of it and I heard the lyrics, "Merry Christmas, Merry Christmas".  I knew it had to be Jesus Christ.