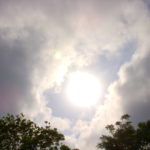 This is an amazing true story that my daughter experienced and is kindly sharing it here for all to read.
On May 2016, I traveled with my girlfriends to Fiesta Texas for some girls-time, and of course my mom reminded me to take God and the Angels with me, so I did.
The park was packed and we waited around forty minutes in line for the roller-coaster ride.  We finally made it to the front of the line, and as we were getting seated and tucking our purses to the side of us, I heard the young male attendant say, "No purses allowed on the ride, you can leave it on the deck area to the side."
My heart sank after waiting so long in line and I felt my gut strongly saying, "NO."   My best friend assured me, "It's okay, just leave it.  It'll be okay."  My best friend had put her purse inside the tote bag at the very bottom.
I reluctantly handed the guy my purse to put in my friends tote bag.  The guy just tossed my bag on top for all to see.  I said, "No sir, stick it inside."  He tucked it in a bit more, but the corner of my purse was still visible.  The ride took off and all I could think of was my purse.  I had my money, credit cards, driver's license, keys, etc.  I couldn't enjoy the ride since I knew I should have listened to my gut.  I should not have left my purse.  All I did throughout the whole ride was repeatedly pray to God non-stop. "God, please take care of my purse.  Please let my purse be there when I get back."
The roller coaster was finally coming to the stop and I breathed a sigh of relief as I saw the corner of my purse still in the tote bag.   I stepped off the ride and went straight to the tote bag.  I grabbed my purse and checked it for all my things.  Everything was still there, "whew"!  My best friend searched for her purse at the very bottom of the tote bag where she had hid it, but it was gone!  It had been stolen!
She was stressed out, worried and close to tears as it had all her money and credit cards.
Of course, the attending guys from the ride said they didn't see anything and suggested we go and look in the lost and found.
I know those guys didn't do it, since they were too busy assisting people on and off the ride.  I'm sure someone coming out of the ride grabbed it on the way out.
We walked around the park for a while in a somber mood and then decided to go look in the lost and found.
Amazingly, her purse was there!  All her cash was gone, but everything else was there.  What a relief!
We were all happy after that and had a great time.
So how do you explain what happened?  My purse was the one in view at the top of the tote bag and was left untouched, whereas, my girlfriend's purse was hidden inside at the bottom of the tote bag and was stolen?
My answer to that is, I prayed to God for help in keeping my purse safe, and he heard me and he answered my prayer.  Thank you Father God!